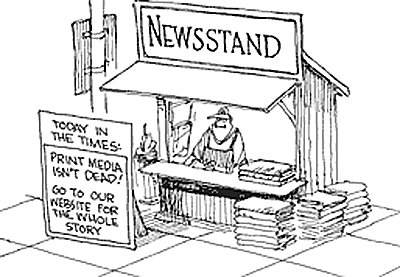 What has Gannett wrought?
The country's largest newspaper chain has already accomplished the unfathomable in Memphis.  It's made us look back to when E. W. Scripps Co. owned The Commercial Appeal as the newspaper's glory days.
It is impossible to think of another corporation that has made a similar investment in our community that has shown such a callous disregard and lack of interest in learning about its new market and what the people who live in it would like to read.
Rather, it treats all of its markets' distinctiveness as irrelevant, manhandling them for maximum profits on minimum news.
No One's Laughing Now
There was a time when we all laughed at Gannett's USA Today as McNews.
No one is laughing now that we've seen it up close and personal.  It's about applying a rigid business philosophy to homogenize news so it can be printed in all of its newspapers while cutting local news coverage to the bone.
After all, 40% of the workforce in its chain has been eliminated in seven year, and this week alone, Gannett eliminated about 30% of The Commercial Appeal's staff.  It's no wonder it is America's least loved chain.   It's reputation for high margins and low quality is well-deserved.
For example, within the last 30 days, there have been articles about Memphis as a passionate, even obsessive, sports city, so of course Gannett is cutting back sports coverage. In the morning newspaper delivered to your home or office, you're unlikely to find coverage of the previous night's Grizzlies or Tigers games.
There have been stories in recent weeks about our unique culture and creativity, so Gannett is devastating that coverage.  Anyone with just a passing understanding of Memphis knows that we are unique and that we already resent the lack of responsiveness from politicians and the dismissive attitudes that Nashvillians have for our community, so Gannett puts real decision-making about our newspaper in Nashville.
Buzzwords and Buzzsaws
It was only a short time ago that Laura Hollingsworth was writing in The Tennessean as its president and publisher.  Today, she is President, USA Today Network/Tennessee.  It's hard to imagine this structure bodes well for Memphis – and conclusive proof came this week.
As far as we know, she's not even bothered to introduce herself to the Memphis business and civic leaders.  But in bundling Tennessee cities into a homologous entity that more than anything displays a complete lack of knowledge about our state and its cities.
So far, Mrs. Hollingsworth has been noteworthy in her acclimation to Gannett's traditional  culture, long been known for its culture of fear and intimidation, and she has shown a proficiency for parroting talking points about innovation, thought leadership, virtual and ambient platforms, and urging her "team members" to be "comfortable with the uncomfortable."
"I happen to be in an industry that used to be called the newspaper industry. I'm not sure we know what it's called today," said Ms. Hollingsworth. She says she has to make "tough decisions" and fire employees who resist change after working in newspapers "a long, long time."
Following the Memphis massacre, she delivered a proud message of misdirection from the Ministry of Truth: "Today we underwent and completed a reduction in personnel in our news division in several of our Tennessee markets, as part of a transformative strategy for the USA TODAY NETWORK–Tennessee."
And undoubtedly, she will now try to convince the survivors of the purge that they are her "team members."
The Fatality List
Gone are 19 Memphians who printed The Commercial Appeal because that will now be done in Jackson, Tennessee.
Gone are copy editors who knew the nuances of Memphis names, street names, and facts, sacrificed as part of the sweeping moves to "right size" the CA as the design department moves to Nashville's so-called design studio.
Gone are about 20 people this week whose names were synonymous with the newspaper itself, including reporters, a photog, and others who knew this community best.
Commercial Appeal publisher George Cogswell, on whom the axe fell early, said at the time: "The anxiety locally is that other folks will be handling our work who aren't in the market.  But at the end of the day, all that content first of all is generated here."
These were Gannett's alternative facts.  First, there are fewer reporters to generate content for a shrunken news hole and the moving away so many key functions means that the new deadline for the Memphis paper (so it can be printed in Jackson and transported back here) is likely to be before the 10 o'clock news.
Turning Down The Light
All in all, it's a strange concept.  In order to sell more newspapers, Gannett drastically reduces news coverage.  In order to sell more news, rather than prove greater value through a deeper dive into Memphis to address the decline in circulation, Gannett believes we will be moved to pay for news from cities sprinkled across Tennessee as far as 440 miles away.  The business plan is to reduce local news to only a few pages, pad it with news from other Tennessee cities, and bulk it up to become USA Today-lite.
There was a time when The Commercial Appeal's tagline: "Give light and the people will find their own way" was more than a slogan.  It was an operating principle.  It is now a historical footnote and nothing more.
Rather than offer up alternate realities, perhaps Ms. Hollingsworth should start by telling us how her "transformative strategy" will illuminate who we are as a people and how it will give a greater understanding of our community, its victories, and its challenges, and how it will do this in a handful of news pages every day.
Just What You've Been Wanting: More Knoxville News
Then again, we wonder that because Gannett now controls major newspapers in our state's major MSAs, except for Chattanooga, it labors under the misapprehension that we are dying to know more about what's going on in Knoxville.  And vice versa.
Until they had purchased Tennessee's largest newspapers, we suspect Gannett wasn't aware that Memphis is as close to New Orleans as it is to Knoxville, and almost as close to Dallas, Chicago, or Kansas City.  Come to think of it, Knoxville is about as close to Canada as to Memphis.
And yet, we suspect that Gannett will not be deterred from its "one size fits all" business plan has disrupted cities across the U.S. and injected a brand of journalistic Darwinism like it did at the The Tennesseans, where it pitted existing reporters, including its best known, against each other in what the Newspaper Guild accurately called a shabby, mean-spirited "Hunger Games."
More importantly, at the exact time that we all need more light to find our own way, Gannett is  the light by commoditizing the news and formularizing its collection and distribution.  Even a decade ago, it had trouble saying it was in the newspaper business, preferring corporate-speak and saying it had "profit centers."
"Old Reliable" Is But A Memory
While every business has to make its profits, the term, profit centers, says volumes about Gannett's view of journalism.  As a result, rather than spending more time and money to improve its newspapers, it instead drains excessive money out of its papers, resulting in a lack of hometown allegiance and more erosion of its circulation.
The result from a Gannett purchase has left long-time subscribers mocking the thin, amateurish product.  We are about to see it for ourselves.
It conjures up memories of the death of the Memphis Press-Scimitar, which was on the front end of the wave of future.  When it closed in 1983 by Scripps-Howard.  Its circulation had dropped to 80,000, more than The Commercial Appeal today.  Death followed Scripps-Howard reducing its news hole, moving up deadlines two hours for the delivered newspaper, cutting back the number of reporters, and accepting greater mediocrity in its product.
Looking back, Memphis would have been better served by hometown owners committed to the community and willing to plow profits back into the newspaper, possibly structured as a non-profit.
We Need More, Not Less
At any rate, we are where we are, and it is a troubling place.
There will some who will celebrate the decline of this 175-year-old newspaper, but they are short-sighted.  The lack of an adequately staffed newspaper in a metro area of 1.3 million people has serious consequences, most notably in the kind of investigative reporting that uncovers political scandal and conflicts of interest and civic crises that need more light shone on them.
Memphis Mayor Jim Strickland's communications guru and former Commercial Appeal reporter, Kyle Veazey, has seen journalism on both sides of the table and he is widely respected on both.  Upon learning about the firings this week, he said: "City Halls need more good local journalism. Not less. A poorly informed public hurts us all."
That is so true, and we are about to find out how much.
**
Join us at the Smart City Memphis Facebook page for daily articles, reports, and commentaries that are relevant to Memphis.