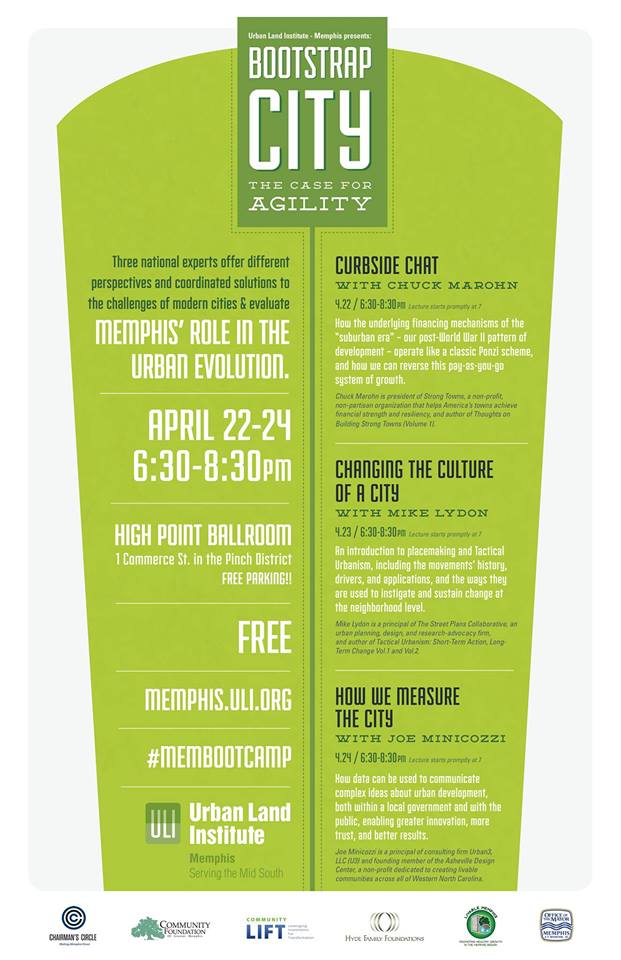 There is the temptation to place the three days of Bootstrap City presentations this week under a convenient heading like New Urbanism or smart growth, but the truth is neither does the presentations justice.
There clearly will be themes consistent with New Urbanism and smart growth in these presentations as well as the themes of tactical urbanism, but for us, the overriding themes are about common sense city-building and about mobilizing the civic and political will for Memphis to take control of its own destiny.
All of us who have worked on city issues and city competitiveness learn that there are no silver bullets or magic answers to improving Memphis.  There is only the magic that comes when a critical mass of the public demands a change from the business as usual which got us to where we are today.
Unquestionably, there will be a-ha moments many times for attendees at the presentations this week, and the test for us is to resist the urge to boil all that we hear into bromides and simplistic syllogisms.  The truth is that city-building is complex and hard, and it's about making smart investments that create the ingredients that contribute to a successful economy, that enrich the quality of life, and that ensure a fair and equitable city.
The Answer: All The Above
Memphis often finds itself in a policy cul-de-sac and that is especially true when it comes to city government finances.  What's regularly missing in discussions of public issues are cause and effect.  Many of these driving factors will be discussed this week, and hopefully, the news media will provide that fuller context rather than overly simplified "either-or" kind of statements.
For example, there have already been declarative statements that cry out for context like the one that City of Memphis should reconsider spending for large-scale projects and instead it should fund small, strategic investments to improve neighborhoods' quality of life.  The fact is that in a city where the middle class hollowed out in the past 20 years, where poverty is climbing,  and where 50,000 jobs were lost in the first decade of this century, the answer is regularly not "either-or" but both.
Unfortunately, city government (and county government too for that matter) operates within one of the most regressive state tax structures in the U.S. and with the persistent interference of a state legislature driven by its anti-Memphis politics and Tea Party agenda.
As for city investments, one of the most important stories of the past five years has been the way that city government has used creative financing to develop the momentum driven by Sears Crosstown, Overton Square, AutoZone Park, and redevelopment of the Pyramid.  In fact, except for the non-flood-related capital funding in Overton Square, these other projects have been paid for with funding sources that were project or site-specific and the money could not have been transferred to neighborhood-based projects.
Booted Up
The misfortune is that if Memphis were in stronger financial condition, the financing of these major projects without massive injections of city taxes would have freed up significant money for small neighborhood investments that could have been spent on neighborhood improvements.  But the city's budgetary pressures made that impossible.  That said, and it may sound counterintuitive, but we've advocated for two years that Memphis should issues bonds for an "Investing in the Future" program for Memphis while interest rates continue to be near all-time lows.
Meanwhile, sprawl will be a major topic this week and the primary question about the future of sprawl here is whether the new normal for public education will halt sprawl as we have known it (although it comes of course as the Memphis region ranks #25 in sprawl among 221 metros) and drive greater densities into the annexation reserve areas for each of the towns with their own school districts.
Back to Bootstrap Memphis: The Case for Agility, we are reminded of a meeting about the intractable poverty in Memphis, and a CEO said that "people should pull themselves up by their bootstraps."  The problem of course is that the 36% of the people in the Memphis urban core who are poor don't have boots, much less bootstraps.
That's a lot like where Memphis finds itself today.  We don't have many boots, so as we all listen to these three experts, we will nod our heads often but at the same time, we need to be thinking about how what they say can be applied, how it can be funded, and how we can make it happen.
Defining Success
In particular, while the schedule is for three experts on three consecutive nights, there are many more experts in the room.  That's because we are the experts on this sometimes bewildering, always captivating, and perpetually authentic community.  It's not enough for us to show up at each presentation with the expectation that the experts will tell us what to do, because we suspect that they would be the first to tell us that it's up to us to decide what to do and then set out to make it happen.
These valuable three days of urban-centric discussions give us rare occasions to focus on the issues and opportunities facing this community in a concentrated way, and as we begin, each of us should think about what success would look like to us.   Here, ultimate success is reduction of the 36% poverty rate in the urban core, ending the economic segregation that places the city at the top of the rankings, return of middle income families, keeping and attracting more college-educated 25-34 year-olds, increased densities within the 1970 city limits of Memphis, and economic growth built on quality rather than cheapness.
You have your definitions of success as well, and we are certain that are equally ambitious and aspirational.  We suspect also that yours, like ours, will take decades to reach.  That's exactly why we need to start now, and there's no better week than this one.
Creating a Strong Memphis
Chuck Marohn, the first speaker in the Bootstrap City series and founder of Strong Towns, is one of our favorites, as shown by previous posts of his recommendations for Memphis in 2012 and by the posting of subsequent videos.  In considering whether a city meets his strong town criteria, he asks questions about financial solvency, demographic diversity, economic diversity and vibrancy, and courageous leadership driving a plan for long-term viability.
Today, honest answers to his questions underscore the tenuous position in which Memphis finds itself, but just as the structure and system here produced the results it did, a different structure and system can just as surely produce other results.
In addition to Mr. Marohn, the other two speakers are equally compelling and with Mr. Marohn, they create an impressive triumvirate of smart thinking about smart cities.  Mike Lydon, the principal of Street Plans Collaborative who literally wrote the book on tactical urbanism, will speak Wednesday night on "Changing the Culture of a City," and his examples of "incremental, small-scale improvement efforts" will prove his primary point: that they have the power to test new concepts and stage more substantial investments.
Mr. Lydon lists five characteristics for tactical urbanism – a deliberate, phased approach to instigating change; the offering of local solutions for local planning challenges; short-term commitment and realistic expectations; low risks, with a possibly a high reward; and development of social capital between citizens and the building of organizational capacity between public-private institutions, non-profits, and their constituents.
The DIY Memphis Movement
Finally, on Thursday night, Joe Minicozzi, principal of Urban3, will speak about "How We Measure the City."  He leads a movement that asks whether cities are negligent in ignoring the property tax implications of different development types.  His firm, which seeks "to promote development patterns that secure a community's fiscal condition while reinforcing a stronger sense of place," has developed award-winning analytical tools in support of its work.
All three presentations are scheduled for 6:30 p.m. at High Point Ballroom at 1 Commerce Street in the Pinch District.  To recap, Mr. Marohn will speak on Tuesday, Mr. Lydon on Wednesday, and Mr. Minicozzi on Thursday.
As we wrote a month ago, what excites us these days are the stirrings of a place-based movement by guerilla urbanists to create DIY Memphis.  Too often, there is the feeling that tactical urbanism is unrelated to the city's most serious problems, and yet, more than anything, it reminds us of the art of the possible.
While changes in the neighborhoods are exciting, what's most dramatic of all is how often pop-up leaders emerge to champion and take charge of their own futures if given the chance. As much as anything, that's what Bootstrap City is about.
A Soulful City
The 2010 Soul of the Community survey by the Knight Foundation and Gallup concluded that the most important factors that create emotional bonds between people and their communities were not jobs, but "physical beauty, opportunities for socializing, and a city's openness to people."  It also concluded that cities with the highest level of citizen attachment had the highest rates of GDP growth and the strongest economies.
That too lies at the heart of the three days of Bootstrap City.