It's hard to think of anyone who has more strongly supported Beale Street Landing than us.
But these days, we look at the project and mostly think of what might have been as a result of a series of decisions that have weakened Beale Street Landing's impact and destroyed its urban design integrity. 
It's hard to even summon up the energy these days to argue with people who say Beale Street Landing now has been made into just an average public project.  That's certainly the case when it's compared to some of the landmark riverfront projects constructed around the U.S.
It's all too bad because the riverfront has long need needed a placemaking project that brings vibrancy and a connection to the water, and there was such an opportunity for Beale Street Landing to be utterly spectacular.
We still believe that it will prove a valuable addition to the riverfront, but we can only hope that at some point in the future, the mistakes made in the pursuit of cost savings will be corrected. 
Three Strikes
The first bad decision was to add the elevator box to the top of the building, destroying the sloping, sweeping architecture that spoke to a sensitivity to natural forms.  In essence, the box is a wart on what was designed as an appealing face for downtown.  There were options to provide elevator access but without destroying the architectural intent.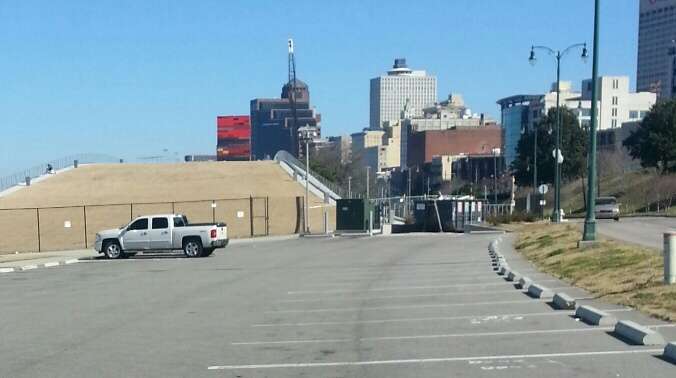 The second bad decision – an unpardonable one – was to intrude into Tom Lee Park to build a parking lot south of Beale Street Landing that destroyed the connectivity between the park and the project.  We don't know if it was the result of value engineering or groupthink, but either way, it is unquestionably an assault on the high quality public realm that Beale Street Landing should have been.
We assume that it was thought that parking adjacent to Beale Street Landing was crucial to attract special events and diners, but there is no way to put lipstick on this pig.  The decision is simply indefensible.  Putting a parking lot into downtown's most important park required a compelling justification that we've yet to hear – mainly because we don't believe it exists.
The third bad decision can also be found south of Beale Street Landing.  Walking north from Tom Lee Park past the paved parking lot, visitors are now greeted with yet another one of those visually-jarring transformers that seemingly populate – and visually pollute – most of downtown's most important locations.
However, at Beale Street Landing, the RDC doubled down, adding an industrial garbage container to assault the eyes and nose.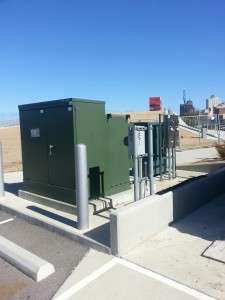 All in all, it just makes us sad to consider what could have been.  Beale Street Landing and its connections to Tom Lee Park should have been Memphis' example of what model public realm looks like, but instead, it falls short of what this high-profile deserved. 
Bad Friday Experience
It's always amazed us that city and county governments – ignoring separation of church and state –  close in observance of a Christian holiday, Good Friday, but the Shelby County Clerk's office seem oblivious to the fact that not every one who walks through its doors are Christian.
In fact, only 64% of Memphians even consider themselves religious and this includes Jewish and Muslim Memphians.
Rather than put a simple sign noting that it was closed, the Shelby County Clerk's Office took the opportunity to do a bit of proselytizing on the taxpayers' dime.  The sign on the office's door include some classic Christian crucifixion imagery, which was inappropriate.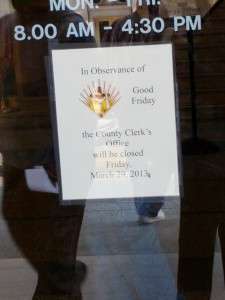 It was a reminder that despite its presence in an major urban environment, there are times when Shelby County Government still acts decidedly like an overgrown rural government.