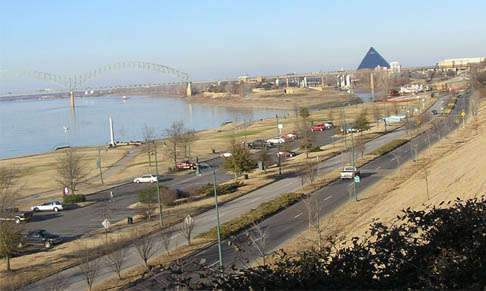 Nationally-known planner, architectural designer, author, and New Urbanist co-creator Jeff Speck laid out six simple ideas Monday night for the Memphis riverfront, but those simple ideas could transform it.
He managed to weave a new fabric from the 25 years of studies that have been written about the riverfront – 19 were listed in his 74-page report commissioned by Memphis Mayor A C Wharton – and he appears to have found the sweet spot for short-term actions that don't cost much and could bring more activity, more people, and more vitality to downtown.
He began his work with a fundamental premise: "The central indicator of success for a city is street life," he said, as he explained the context for city government's work.  Mayor Wharton asked him to look at the decades of plans and recommend to City of Memphis what its priorities ought to be.  "His purpose was to look at everything," Mayor Wharton said.  "It was to pull out the themes that offer the most impact and suggest an agenda for my administration."
In his report, Mr. Speck eschewed the grand plan – "the last thing Memphis needs is another plan" – in his pursuit of ideas that should receive the broadest public support, and judging from comments made after his presentation to a packed room of 205 people, it's reason enough to be hopeful that something can be done as a result of his thoughtful, balanced approach.  His report has been turned into Mayor Wharton, and anyone who cares about vibrancy and vitality in downtown Memphis should read it.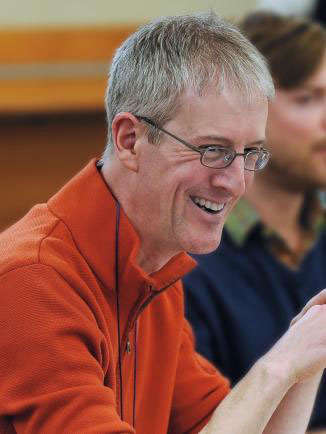 It's Street Life, Stupid
He drew liberally from the lessons in his new book, Walkable City: How Downtown Can Save America, One Step at a Time, and his experience as director of design for the National Endowment for the Arts and Director of Town Planning at Duany Plater-Zyberk and Co.. He is the co-author of Suburban Nation: The Rise of Sprawl and the Decline of the American Dream as well as The Smart Growth Manual.
Some people may yearn more for the grand gesture but history has shown that more than $2 million spent on riverfront plans have failed to give way to the transformation that's needed.  There may be a few who think that his "simple ideas" might not be enough, but taken together, they have the potential to reinvent the riverfront experience, and to do it without massive public investments.
In his 2008 presentation here about walkability and connectivity issues in downtown Memphis, he famously said: "Don't let traffic engineers determine your quality of life."  We hope that isn't a hurdle standing in the way of implementation of his ideas, but it will take city traffic engineers setting aside their car-centric philosophy if Riverside Drive can be turned into a real boulevard that slows down the raceway and gets the parking lots out of Tom Lee Park.
"No great urban park has parking lots in them," he said, adding that the value engineering on Beale Street Landing was problematic in that it added a box for an elevator and disrupted the roof's gentle slope and the parking lot that separates Tom Lee Park and the much-needed amenity on the riverfront.  "The parking lot completely undermines the architectural scheme and interrupts the entrance from the park."
The Speck Half Dozen
Before we digress too much further, here are the six short-term ideas for the riverfront:
1. Make Riverside Drive a complete street.
2. Make Bass Pro Drive a complete street.
3. Encourage development along Bass Pro Drive.
4. Remake Jefferson Davis Park.
5. Complete the central Riverwalk.
6. Improve Tom Lee Park.
"Riverside Drive is the highway that was famously killed to become a parkway, but now functions too much like a highway, speeding cars in a seam between the city and its riverfront," he said. The "potentially easiest win" for the riverfront is a reconfiguration of "Riverside Drive, which is annually narrowed and closed with little negative impact on downtown for Memphis in May International Festival.  He said Riverside Drive should be converted from a four-lane speedway to a two-lane 'complete street,' including parallel parking and a protected bicycle track along the Mississippi River."   "All you need is a new top layer and paint to restripe it," he said, drawing on recommendations from his engineering partner, highly regarded engineering firm, Nelson-Nygaard.  The parallel parking allows for the removal of the parking lot from the park, he said.
Bass Pro Drive, Cobblestones, and Riverwalk
He said Bass Pro Drive, entrance to Bass Pro Shops, should reflect the same philosophy as Riverside Drive, with the four lanes reduced to two with parallel parking.  Then the road should be shifted eastward to open up a four-acre tract of land for redevelopment.  The change in the road into Bass Pro then creates an environment for mixed-use development between The Pyramid and Tennessee Welcome Center, he said, adding that he is pleased that the retailer has added bike lanes and connected to the riverwalk as part of its plans.  "The site between the State Visitors' Center and the 1-40 ramps – now cleared of the concrete plant – should be sold or leased for development as a mixed-use, moderate density housing, and the revenue generated should support the other ideas," notably the new improvements to Mississippi River Park south of the visitors' center, the report said.
"As the northern bookend to the cobblestones, Mississippi River Park should be remade as an active waterfront park, including dramatic water features and a stair/elevator to the Mud Island monorail bridges to eliminate the circuitous walk back to the monorail entrance," the report said.  People at the visitors center can almost throw a rock to Mud Island, but to get there, they have to double back to Front Street.
"The Riverwalk, currently interrupted by confusing gaps where Riverside Meetings Jefferson and between Monroe and Union, should be completed and provided with improved wayfinding," he said.  The gaps aren't the only problem.  The sidewalk facing the river on the west side of Riverside Drive is too narrow and the sidewalk on the east wide of Riverside Drive next to the garages is often blocked with poles and transformers in the middle of them.  He also said that the detour through the South Bluffs could be eliminated with the reconfiguration of Riverside Drive because the riverwalk could proceed down the bluffs to Tom Lee Park at that point and proceed to Chickasaw Heritage Park. "Two things that make riverwalks work – the view of the river and continuity," he said.  "When you can't see the river from your riverwalk, you don't have a riverwalk."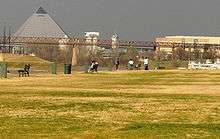 Tom Lee as a Park
"Both Tom Lee Park and Beale Street Landing, receiving dozens of new parking stalls within a reconfigured Riverside Drive, should remove their surface parking lots," he wrote in the report.  "Working with Memphis in May International Festival, the City should redesign Tom Lee Park as a series of grassy 'rooms' separated by trees and shrubs."  We know that the restaurant inside Beale Street Landing needs parking, but once the underground parking option was deleted, the powers-that-be should have developed any alternative ahead of the eventual abysmal choice to put parking in Tom Lee Park.  Even the most severe outbreak of groupthink should have recognized what a bad idea it is.
Tom Lee Park is a missed opportunity, in the opinion of most people, Mr. Speck wrote in his report, adding that Memphis in May is great for downtown and that the creation of "outdoor rooms" would make the park more attractive but not disrupt the annual May festival.  "While Tom Lee Park warrants a limited investment in beautification in conjunction with the reconfiguration of Riverside Drive, which will attract more potential users to its edge," he said.
These six recommendations were only part of a report chock full of sound thinking.  Other recommendations were:
*  Connecting Beale Street Landing with a bridge or a boat that runs back and forth from Beale Street Landing to the tip of Mud Island to create a walkable loop that goes north up Mud Island where its center point aligns on an east-west axis that is essentially the heart of downtown, including Mississippi River Park,  Memphis Park, and Court Square.  However, Mud Island won't reach its potential until it is open year-round, 18 hours a day.  "Mud Island feels tawdry and forgotten, but it's in the long-term interest of the riverfront to have a walking loop that is open 18 hours a day and includes Mud Island," he said. "Few people visit the park on a regular basis because it is hard to get to, poorly amenitized, and only open from 10 to 5 half the year.  With better access and amenities, Mud Island Park could be expected to attract the larger populations that would make investment in them justified."
Road Diet, Urban Triage, and Development
*  Putting Willis Avenue on a road diet and adding bike lanes.
*  Applying an "urban triage" approach to redevelopment of Pinch Historic District, acknowledging that most urban areas have streets that are not particularly walkable but support a framework of other streets that are truly excellent.  Overton should be the prime east-west street for special attention because it connects with Main Street, the longest walkable street in downtown Memphis, and it centers on The Pyramid.
*  Creating a developable area where Lone Star concrete plant used to be and on the land across Wolf River from it. "While certain parties feel otherwise, the evidence suggests that Memphis currently has more waterfront open space than it can commit to properly amenitizing and maintaining," he wrote.  "It seems logical that before any new parkland is created, limited city resources should be used instead to amenitize existing parks such that they attract and benefit users.  One way to help fund this effort is through sale or lease of City land to be developed in a manner that brings more residents and activity to the riverfront."
*  Kick starting Memphis Art Park in the Cossitt Library building.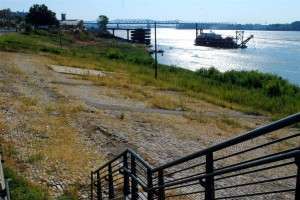 Cobblestones, Promenade, and Wilderness
*  Completing the cobblestone project, which is emblematic of how "the desire to preserve the past while enlivening the present can be at odds with each other," he described the present project as a "version of what's there now."  After it's completed, he said city government should open up the space for temporary activities and attractions – from concessions to street fairs to markets to public art.  "The question should be, 'What can we put on the cobblestones temporarily to make it more active and make it a place where people can do whatever they can imagine to liven it up in the fashion of tactical urbanism?"
*  Bringing the City Beautiful ethos, which inspired the creation of the promenade for public use, to the present and to begin this by acknowledging that we're talking about two blocks, not four, because garages, the library, and the UM law school take up the others.  "Most people, though not all, agree the parking structures are a blight," he wrote. "These buildings cut Front Street (and the downtown) off from the river and provide unpleasant, deadening faces against all surrounding streets.  What we can do is delineate the characteristics that both good outcomes share, and note that, until the question (of the promenade) is resolved, the current unfortunate condition will not change.  By defining the dispute to its true limits, we can then both establish a shared – albeit limited – vision that is potentially enactable as an official plan while also limiting the scope of a legal dispute that needs to be resolved as quickly as possible to allow change of any sort in the future."  He recommended the replacement of both riverfront garages with smaller parking structures whose top floors sit roughly at the elevation of Front Street and whose habitable edge have at least 20 feet facing Riverside Drive so there can be either public or private uses that enliven the riverfront.
*  Treating Arkansas as a wilderness area that should be protected. Mr. Speck said that it's unlikely that many pedestrians and bikers are going to travel from Main Street in Memphis to Main Street in West Memphis, but they would go across the bridge – rather than going halfway and coming back – if there were paths and nature centers on the Arkansas side of the river.  "A well-appointed park loop within this coastal zone would provide a nearby destination to encourage greater use of the new bridge boardwalk," the report said.  "Beyond the provision of such an amenity, it is worth investigating how this natural area, so important impression of downtown Memphis, can be permanently protected from unsightly development, and future taken advantage of for what it is, a vast downtown park."
Putting People on the River
In the section, "Conceptualizing the Memphis Waterfront," Mr. Speck rightly said: "If the riverfront were only the water's edge, there would be no great river cities.  What matters is how people are brought to the water, and therefore, how urbanism reaches to the water."  That is the theme that gives his recommendations weight and why they deserve widespread support.
He has done a great service to Memphis in approaching his task and delivering his report with logic, common sense, and an emphasis on finding the ways that bring us together behind a transformative set of actions that will make the riverfront the special place that we all want it to be.
The report can be accessed here.