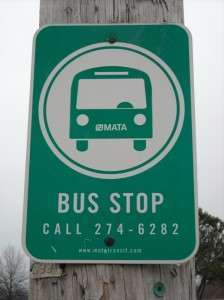 An executive with the Memphis Area Transit Authority says that the public transit agency is moving from the Pony Express to the Space Age.
His comments were of course hyperbole, but only barely.
After years of serving as punch lines and with a reputation for delivering the most basic level of bus service, MATA has a plan and new technology that have the power to transform it.  And yet, it's unlikely to happen because at the precise time it's ready to reinvent itself, funding from Memphis city government – which has long been deficient – was cut $2 million.
That's the reason that Memphis City Councilman Edmund Ford Jr. proposed a one-cent increase on each gallon of gas and earmarked the $3-6 million in new revenues to MATA as the dependable source of funding long sought by the agency.
Meanwhile, Memphis City Councilman Shea Flinn, with the support of Mayor A C Wharton, has proposed an increase of the local sales tax that would push the current 9.25 percent it to its legal limit of 9.5 percent , producing just under $50 million for city coffers.  Similar increases in other cities have been tied to improved parks, more libraries, better sewer systems, and smaller school classes, so it's likely that justifications that the money is needed to prevent deficits in the next fiscal year are not enough to win approval in a November referendum.
While the gas tax for MATA has been odds, according to conventional wisdom, a ballot that includes two tax increases is likely to spawn a "pox on both your houses" reaction from beleaguered voters.   If that happens, instead of MATA implementing its ambitious new action plan, it will instead be cutting budgets – and routes.
Even if the gas tax increase to fund MATA is approved, it's still probably about $20 million too little for a budget that can produce a first-class public transit system.  It's hard to overstate the importance of a better transit system.  Memphis is the leader among U.S. cities in the percentage of the median household income that is spent for transportation – 27 percent – and the system allowed by inadequate funding puts even more pressure on Memphians to buy automobiles.
In addition, quality public transit is a marker for a city that works, in the opinions of 25-34 year-olds being sought by every city because they fuel today's economy.  College-educated workers here reveal in focus groups that the lure of Memphis is that they "could quit living like a student" and buy their own house rather than living with three other people in an apartment.
But, they said they expected Memphis to have a modern, welcoming, efficient public transit system, and because it didn't, they complained that the promise of a lower cost of living was misleading because "no one told us we'd have to buy a car."
The mandate for a better transit system was underscored when the public poll by Sustainable Shelby revealed that the price of gas would have to double before suburbanites would be forced out of their cars and onto MATA buses.
Understanding these realities, MATA's new plan is "revenue neutral," but even with lower expectations, MATA has still unveiled some technological improvements thought unattainable only a couple of years ago.  For the first time, MATA has GPS technology that tracks every one of its buses and categorizes them as on-time, ahead-of-time, behind-time, and off route.
While this technology is a powerful tool for greater accountability, for the first time, it gives riders access to real time schedules similar to the Portland, Oregon, system that has been state-of-the-art.
Previously published in Memphis magazine as its September City Journal column.