For this episode of Urban Indifference, we return to a regular source of irritation – repairs to Main Street.
As we've noted before, for years, city government's idea of repairing grates crushed by vehicles driving up and down the supposedly vehicle-less street makes our home repairs look sophisticated.  All that's missing is the duct tape.  Interestingly, it's often vehicles of city government and city agencies doing the damage.
We've noted before how city government's idea of repairing Main Street is to affix plywood over it…with apparently little intention to ever do anything else.
Recently we took inventory.  We walked down Main Street from Poplar Avenue to Peabody Place.  There is not one block without one of these ugly plywood repairs, and the block with the most — 18 — just happens to be the one in front of City Hall.  And that's with several places where the grates were damaged and left unrepaired.
It's hard to be a downtown worker, resident, or visitor and not take notice of these reminders of urban indifference.   The message they send is clear – no one is paying attention to the details, quality urban design means nothing to us, and city government is a major contributor to the eyesores that we have come to accept as business as usual.
Here's a number that startled even us.  From Poplar to Peabody Place, there are 59 plywood patches passing as repairs to broken grates on Main Street.  And some of the plywood patches are eight feet long.
As one reader emailed: "You can only imagine what South Memphis neighborhoods must be like if it's downtown that's getting special attention from the city." Another email suggested that we should check the condition of sidewalks in neighborhoods all over Memphis, so if you have any photos of sidewalks, please email them to us.
Meanwhile, as the closing of Madison Avenue began its sixth month, Judge Larry Potter finally offered some relief by requiring that the street be reopened after a building collapse.  We were emailed this photo by a reader who said it would "do the Golan Heights proud," but we take progress where we can get it around here.  At least Madison Avenue is open again.  Finally.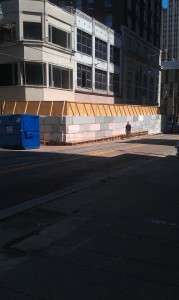 To follow up the conversation about fining owners for blocking public sidewalks ala the "temporary" fence at the Hickman Building, Downtown Memphis Commission President Paul Morris was asked about the potential of an ordinance to toughen up penalties for the benign neglect that occurs in this regard.
Here's his response:
"I think it is a case-by-case solution, not one size fits all.
"In many cases (e.g. Chisca, 118 Madison) the city or court has ordered the property owner to erect the fence blocking the sidewalk in the interest of public safety. In those cases, the city needs to be more aggressive about requesting the Court to order the property owner to pay daily anti-neglect fines under the City's existing anti-neglect ordinance.
Mayor Wharton and Herman Morris are currently reviewing a strategy to take a much more aggressive approach to enforcing the city's anti-neglect ordinance, and DMC is urging the City to be more aggressive in this regard.
"In other cases where there is no city or court order to block the sidewalk, the city could cite the property owner under the existing city ordinance against obstructing the sidewalk.
"We could advocate for a new ordinance specifically addressing this issue, but I'd much rather see what we can do if we try enforcing existing ordinances. I think the existing ordinances, if aggressively enforced, are adequate to address these situations. Passing a new ordinance would take a lot of time and political energy and likely be futile because the fundamental problem is lack of enforcement. The challenge is there exists a lack of enforcement resources and, worse, a culture of unaggressive enforcement of the anti-neglect ordinance Downtown. Mayor Wharton and DMC are working to change that culture.
Finally, one of our pet peeves is the illegal parking that takes place day or night on Union Avenue next to Huey's restaurant.  Despite highly visible "no parking" signs, there are always cars parked there, effectively turning Union into a one-lane street and backing up traffic because there is no turn lane allow motorists to go south.  The other day, as a city policeman was ticketing cars for parking at expired parking meters on Union east of Main, we asked why there wasn't equal attention given to the illegal parking just a half block away.
His reply: We probably should.
That said, no tickets were given on any of the cars in the no parking zone.