We'll move to some other urban design and fabric faux pas soon, but we continue to get emails about the continued close of Madison Avenue.
We got this update from Urbanut about the "Main Street Trench:"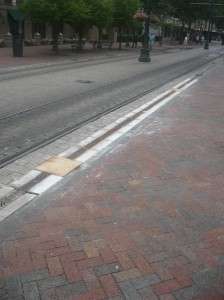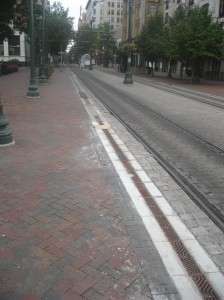 "As fate would have it, a crew of 5 maintenance employees and no less than 4 city trucks was at Court Square yesterday morning working in the "trench" on Main at Court Square.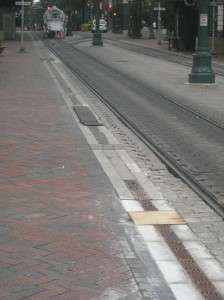 "The fruits of their labor can be seen in the first 3 images attached above.  Note that repair work did not extend as far as to replace the decorative blocks in the street nor did it include repairing whatever damage lies below the cut sections of plank located a few feet away.  One would think… well, no need to elaborate."
There is no need to elaborate since this has become the routine for repairs on Main Street – haphazard and with no attention to urban design.  We'll walk Main Street in a few days and we're predicting that there are 48 of this plywood repairs from the front of City Hall to Peabody Place.
"The only progress I have noticed on Madison was the movement of a small crane that was located on the street up until two week s ago.  Otherwise all is quiet on the Madison front as of yesterday afternoon."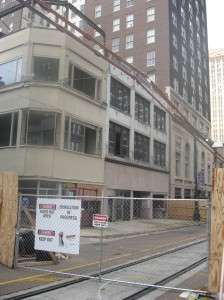 Finally, an update on the godawful razor wired-fence around the Shelby County Sheriff's Department parking lot.  We received an email from some involved with the Center City Commission Design Review Board at the time changes there were approved.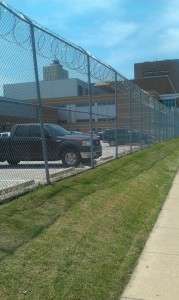 The lot and fence were approved with the promise by Shelby County Government that there would be landscaping that would soften the fence's intrusion for drivers downtown.  Once approved, county government decided to simply ignore the conditions.
So much for leading by example.
Stay tuned: next week, we'll post some other photos we've been receiving.
Thanks to all of you, and again, if you have an example of poor urban design or something simple that could be done to improve the urban fabric, please email it to tjones@smartcityconsulting.com.  We'll post it and any commentary you send in.