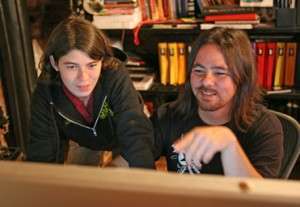 We're not sure if we've ever before received an invitation that made us feel guilty.
But that's how we felt when we got an invitation from our friends at Live From Memphis.
It was an invitation to attend their 10th Anniversary celebration this Friday night. 
The truth is that they shouldn't have to throw this party.  The powers-that-be and the rest of us should be throwing a party for them.  From the modest idea to spotlight Memphis music, Live From Memphis Live today produces a website, broadcast programming, web series, live events, and magazine.
Looking Back
When we look back at the past decade, we can't think of anyone we admire more than Christopher Reyes and Sarah Fleming.  Long before anyone was thinking about the future of the music industry, Mr. Reyes was, and his predictions of its transformation and the flattening of the industry between artist and fan have come true in spades.
Back then, people listened and smiled politely.  Now, the opinions are held widely by all of us, but we tend to forget that we could have gotten a strong jump on the new day in music if we'd paid more attention to Mr. Reyes.
People also smiled politely when he talked about his idea for development of the definitive website for Memphis music.  And yet, the ideas were so good that over the years as he expanded his website and his vision that he had to defend them from being stolen by public and nonprofit organizations.
On Mission
Come to think of it, we'd have looked a lot smarter if we'd provided the support – civic and financial – so that Live From Memphis could have achieved its full vision from day one.  Lesser people would have moved away out of frustration for the lack of adequate appreciation and help, but the power of the vision was always too strong to surrender it without a fight.
We've been lucky enough to work with Mr. Reyes and Ms. Fleming over the years, and they've regularly been ahead of the curve.  Before anyone here had comprehended the growing importance of creative workers and talent, they were missionaries for the new thinking.  And they put their money – their personal money – where their mouths were to shine the spotlight on Memphis musicians and artists. 
Today, Live From Memphis is the essential hub for anyone who wants to know what's going on artistically in our city, and it remains unrelentingly focused on their mission:
"Memphis is our passion. Live From Memphis' mission is to shine a light on the Memphis music, art, film, and culture we love. We tell the story of the Memphis creative community's successes to both the city and the world."
Get The Focus Right
All of this was done in a uniquely Memphis way, characterized by an unwavering attention to the interests of musicians and to getting to the grassroots of creativity, where the greatest Memphis music has always been found, away from the city's mainstream and in musical cauldrons where originality and authenticity are their own rewards.
That much has never changed in Memphis, because the unique musical styles of our city are just as alive today as when they burst forth from Sun Records and other studios. And just as it was then, it happens largely unnoticed by the private sector, because it has no experience with the kind of independent free spirits who are heirs to our music tradition and who are the exact kind of people whose talents must lie at the heart of our music strategies.
Worst of all, it will be an indictment of a foundation has too often in the past unveiled music strategies as something to be thrust upon Memphis musicians rather than as something to be built on the organic creativity that has always been at the heart of the Memphis Music.

Creatives for Creatives
Live From Memphis defines its purpose as providing "positive stories, experiences, services, and resources to serve our community.  We are creatives working for creatives."  Its mantra – which would be a good one for the entire city – is Connect. Collaborate. Create.
Since its birth, Live From Memphis has been an exercise in creativity, and for sending that message convincingly and strongly, all of us should lift a toast to Mr. Reyes, Ms. Fleming, and their colleagues this Friday night.
That said, if you can make it, click here for more details about the celebration.