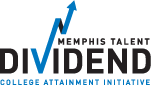 We've been talking about the Talent Dividend so often here that we feared that it would just become the latest buzzword with no lasting commitment to it.
Boy, were we wrong.  Leadership Memphis's President David Williams and his board embraced it as a priority and have set out to turn it into a movement.  In a short time, they have amassed important allies and supporters and set talent as a lens through which we should consider our city and strategies to improve it.
As you know by now, the Talent Dividend is $1 billion and results from increasing the percentage of college-educated people by only 1%.   That's 8,002 graduates, which stands as the target for all that Leadership Memphis is doing.  (MPACT Memphis is supporting this same goal with its focus and work as well.)
To further their work, the Talent Dividend team has set up a website, which will be enhanced in the coming months.  We hope you will visit it at www.memphistalentdividend.com.
Here's what the site's home page says:
At Leadership Memphis, we're on a mission.
Together with more than 100 other organizations known as the Memphis Talent Dividend (MTD) we've set a goal to increase the number of college graduates in the Memphis metro area by one percentage point over the next five years.
Why? Education is an economic driver that will generate jobs, attract new business to Memphis, allow local businesses to expand and nurture entrepreneurship. Education is also the antidote to chronic drains on our community, such as poverty, crime and illiteracy.
If the Memphis region can increase our college attainment by one percentage point, we will realize a $1 billion annual talent dividend. Our goal is to produce 8,002 college graduates.
What's our plan for achieving this? The MTD has some great things in the works, and you can be a big part of the solution, too.
Ask yourself the question, "What can I do to help someone get into college, be successful in college or go back to college if they dropped out?" Explore our website, find out how to Get Involved, contribute to the 100 Things in 100 Days campaign, Donate, or Become a Collaborative. Be the change you want to see.