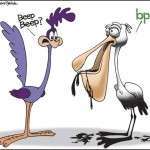 We talk often here about the talent drain and the negative impact on Memphis.  We thought today about Pau Gasol and Bill Day.
It seems that basketball legend Bill Walton is now largely recovered from his debilitating back problems and is back to normal – which means that he is sharing his highly opinionated opinions with anyone who'll listen (and we always have).  He was talking about current NBA players, and he said that former Grizzles player Pau Gasol is the best center in the NBA.
He said: "By far. He is magnificent, in all aspects. He's got remarkable skill, phenomenal grace, dignity, class. He is like David Robinson, in terms of his humanity and his personality. But his game is unique, because it's 100 percent based on skill. There's never any pushing, shoving. You win the championship when you have the best player, and the Lakers have that in Kobe — Kobe and LeBron are the two best players — and you have the best coach, Phil Jackson; and you dominate the paint. And that's what Pau Gasol does. And he does it with his mind, his heart, his soul, his spirit and his incredible skill."
Ouch.
Give Light
But to even more important talent that got away (or was forced away) is former Commercial Appeal editorial cartoonist Bill Day.  In one of the purges at the CA that sadly seem to take direct aim at some of the best talent there, he was "released" about 12 months ago.
It was a stunning decision by CA management in light of the newspaper's legacy of applying the power of the cartoonist's pen to amplify its editorial positions.  Time and time again, the cartoons proved that a picture is indeed worth a thousand (or more) words.
We posted an update on the brilliant former editorial page editor Dave Kushma named editor of the Toledo Blade, as our reminder of the national caliber talent lost at the Commercial Appeal. To this point, we're proud that Mr. Day, now part of the United Feature Syndicate, has received the 2010 RFK Journalism Award in Cartooning.
According to the news release, Mr. Day won the award for shedding light "on the continuing problem of infant mortality in America, especially among minority populations.  His unusual special project creates clear and easily-readable cartoons, raising public awareness, partly through a grassroots movement that led to the introduction of legislation and policy improvements."
More Award-Winning Cartoons
The Robert F. Kennedy Center for Justice and Human Rights (RFK Center) was founded in 1968 by Robert Kennedy's family and friends as a living memorial to carry forward his vision of a more just and peaceful world.  Today the impact of the RFK Center extends around the globe, through cutting-edge programs promoting human rights and social justice and empowering new generations of leaders.  The widow of Robert Kennedy, Ethel Kennedy, will present the award to Mr. Day May 26 in Washington, D.C.
The RFK Award is sometimes called the "poor people's Pulitzer" but is a highly revered award in journalism.  His cartoons have been used most recently by the Urban Child Institute as compelling images that called attention to the problem of high infant mortality and abuse rates in our community.
By the way, since his forced exit from the CA, he's also won the 2009 Green Eyeshade Award in Cartooning from the Society of Professional Journalists for best in the southeast and the 2009 National Press Foundation's "Award of Merit" in cartooning.
It's a shame that our major daily newspaper now offers us canned cartoons that say little about our conditions or comment on our political and civic scene.  Somehow, St. Louis, Jackson (MS), Birmingham, Tulsa, Little Rock, New Orleans, Rome (GA), Mobile, Chattanooga and Atlanta all manage to have cartoonists on their staffs, and it's a sad commentary on the vision for The Commercial Appeal that it can't do the same.