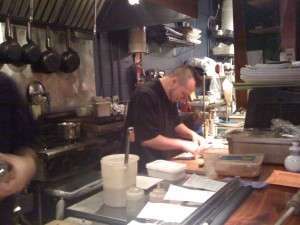 I have a great job.
I work with locally owned restaurants helping them reduce their carbon footprint. So, I eat out a lot and I get to blame my job for the few extra pounds I've been carrying around since I started Project Green Fork eighteen months ago.
I love restaurants—especially the types that are small enough that you get to see the chef working their magic when you walk in the door. It's what I call the, "What You See is What You Get" restaurant, case in point with a local favorite, Umai. The chef greeting you while he's hand-rolling sushi is a most welcoming sight to me.
I recently starting working with Umai, a small Midtown Japanese/French restaurant (Umai means delicious or tasty in Japanese) and quickly became impressed by chef/owner, Ken Lumpkin. He's been around for a while and has an impressive résumé to prove it.
When he went out on his own, he really went out on his own. Many restaurateurs have silent partners, financial backers, or money to invest and not lose their shirt. Not the case with Ken. He has a passion and a drive and a hell of a talent, but not deep pockets. It's this passion and drive that has kept Umai going for the past 3 years.
A few weeks ago at our PGF board retreat the question of how can we continue to do what we do with limited financial resources was discussed. While brainstorming, one of our board members brought up the possibility of working with nationally-run chain restaurants as an additional source of income. Working with this restaurant category would help our financial stream but that's not what PGF is about. Equal to helping reduce environmental impact, bringing attention to these small locally owned and operated restaurants is what we're about.
Like Umai, Project Green Fork is small and we run our organization with passion and drive, not deep pockets. We'll continue to work with and support the locally owned with a faith, like Ken, that the work will speak for itself and the funding will come.
The next time you're mulling over the question, "What's for dinner?," choose one of these locally owned jewels. Your choice may just keep them in business.
Website: projectgreenfork.org
Facebook: Project Green Fork
Twitter: projgreenfork