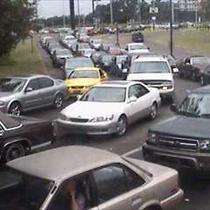 Sometimes, something takes on so much symbolic power that it comes to define something much broader.
For Memphis city government, that something is auto inspection.
The unconscionable waste of the only thing that really matters – time – and the silliness of a system that has no data to justify the monumental inconvenience in the lives of the owners of the 420,000 vehicles that wait in line sometimes for hours to get an inspection each year.
By the Numbers
Here are the numbers worth remembering: the number of vehicles that fail each year amounts to just under 8%, or about 34,000 vehicles.  In other words, to ferret out those cars, owners of 386,000 vehicles with no problems were forced into lines at Memphis's auto inspection stations.
It seems a conservative estimate – particularly after the lines winding several blocks from inspection stations last week – to consider that each trip there takes about 10 minutes (excluding the drive time), and using that measurement, it conservatively means that Memphians sit in line waiting for a three-minute inspection for the cumulative equivalent of seven years each year.
That said, we're only guessing, because we're willing to bet that city government has never done a study of the lost productivity caused by this inefficient system.  In fact, during budget hearings, the Division of Public Service submitted its measurement of success – that the actual inspection was less than three minutes.  It's the sort of statistic that says volumes about government's tendency to look inward and see itself as the center of universe rather than the people who pay for it.
Surely, at the least, the Wharton Administration and the Memphis City Council should take a new look at inspections mandated by a 1985 ordinance (there was a regulation before this one that required inspections for anyone who drives on Memphis streets) that purports to protect "the public health, safety and welfare and for the promotion of safe operation of motor vehicles on the streets and highways of the city."  It sets failure to get an inspection as a misdemeanor.
Example of Bigger Problem
It's pretty hard to imagine that any city department is essentially delivering its service the same way it did 35 years ago, but in that regard, auto inspections is the tip of a much greater iceberg of services that have incorporated computers without applying the full capabilities of technology to reinvent every service.
To top it off, as government often does, the city ordinance exempts government from the inspections.  But we don't want to be unfair to city government.  It does also exempt you if you've received a Congressional Medal of Honor or were a prisoner-of-war.
Rather than spending $1.9 million to process Memphians through the inspection stations, what if city government could use the stations to show what better government looks like?  As Memphis Mayor A C Wharton said to the 2010 Leadership Memphis class, the business model for City of Memphis is badly flawed and must be dramatically improved.  Because of the symbolic value now held by auto inspection, we hope that it will be high on the list for attention.
Hitting the Right Targets
We also hope that City Hall will talk with Harvard University government innovations and former Indianapolis Mayor Stephen Goldsmith who spoke at Leadership Memphis's communitywide gathering last week.  Following a provocative presentation at that gathering about the way that competition and innovation can transform local government, he spoke with members of this year's class in a special question and answer session.
One of the first questions was about auto inspections.  The short answer: They don't have them in Indianapolis.
It was part of his deregulation agenda.  While most people immediately think that government deregulation is about removing rules for business, Indianapolis took a different approach: It was about removing rules for ordinary citizens.  As Mr. Goldsmith explained it, regulations like those aimed at auto inspections rarely hit their mark, because violators so often ignore the rules in the first place, whether it's an auto inspection or a dog permit.
So, what does Indianapolis do?  It doesn't inconvenience people who aren't the problem.  It tickets the ones who are when the police sees them on the road.  But maybe Indianapolis is an exception, so we checked with people in Louisville since it's had air quality nonattainment issues like ours.  Louisville doesn't do inspections either, because it decided that improvements in pollution levels resulted more from newer cars replacing dying ones than city inspections.
Liberating Employees
Speaking of governments that work, Mr. Goldsmith made a compelling case for injecting more competition into city governments and for better engaging neighborhoods so they set agendas for their areas.  He was elected on a platform of privatization and unsurprisingly city employees, especially union members, were not pleased.
But something surprising did happen.  When he met with the first target for privatization, the costly city garage, its employees pushed back but discussions produced a new idea: the union employees of the garage would respond to the bid request for garage operations.  When it was submitted, it proved that there are no experts on cost savings like employees themselves, and the garage employees not only responded but it proposed that they would not get a pay raise but a percentage of the savings.
And savings there were, and once this managed competition was implemented throughout Indianapolis government, it amounted to $400 million over eight years.  It is solid proof of Mr. Goldsmith's theme that competition actually "liberates" employees from a horrible business system.
Sending a Message
Meanwhile, at the neighborhood level, he divided the city by areas and set up teams to serve them rather than structuring city government by function.  As a result, each neighborhood had a team assigned to it that knew its problems and needs, but more to the point, a team that responded to a plan developed by the neighborhood itself.
One thing that he mentioned that caught our attention was that he entered into 500 contracts with churches and neighborhood groups for management of their neighborhood parks.
These too would be symbolic wins for the Wharton Administration, but there's nothing that compares to auto inspections.