As the tenures of two city leaders – one in the arts, one in downtown development – come to an end, we're hard-pressed to think of a better legacy for them than the Memphis College of Arts Graduate School in the South Main Historic District.
There is little left that we can say about our friend Jeff Nesin, who soon will step down after 19 years as president of Memphis College of Art.  He is smart, funny, creative and thoughtful, and clearly, this grad school is, if anything, a tribute to how much this city owes him and how much we value him.  Like few other people, he understands how a current of creativity is what has driven Memphis' greatest accomplishments in the past and he's done his best to contribute it, nurture it and encourage it so it can do the same now and in the future.
While we're excited about our new neighbors, the University of Memphis Law School and its aspiring lawyers, as well as its plans to build a landscaped connection to its neighboring riverfront park to the north that will be an amenity for all of us who spend most of our lives on the river's edge; however, we admit our bias when we say we are even more excited about getting art students downtown.
Creative Hub
They will bring much-needed creative energy and contribute to the vibrancy so lacking in downtown.  For too long, we have measured the downtown "renaissance" too much by buildings and too little by intangible qualities that we need to engender and capture to give downtown the presence that draws people to it and the young creative workers that it needs to have.  In this way, the graduate school building is a two-fer.
As the institutional symbol on South Main of the importance our city places on arts, the College of Art grad school will become the engine for art classes, for art shows in the neighborhoods and for partnerships with artists who aren't students.
The Memphis College of Art is one of our city's most underappreciated assets.  It's hard to find another city of our size that has its own College of Art, and over the years, it has been a reliable source of artistic talent and creative expression. Under Mr. Nesin's leadership, its impact has magnified as he doubled its enrollment, increased its financial and civic support and added more and more scholarships to open up new options for hosts of young people.
New Chapter
Because of it, we were excited when he emailed his faculty and students yesterday of not one leap forward but two:
"In 1919 Walter Gropius, the German architect who founded the Bauhaus, wrote in the Bauhaus Manifesto:
'The ultimate aim of all creative activity is a building!'
"The exclamation point is his. I've always preferred a more various notion of creative activity, but today I'm channeling Gropius—even the exclamation point!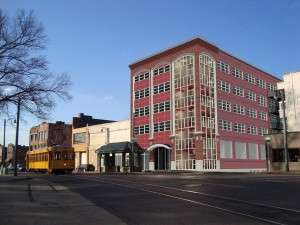 "Yesterday our Board of Trustees approved the purchase of a marvelous 1920s-era five-story manufacturing building at 477 South Main St. (at the corner of Butler) to be the new home of MCA's growing graduate programs.
There's More
"The renovation and restoration will begin quickly, assisted by essential support from the Center City Development Corporation, the Hyde Family Foundations, ArtsMemphis and private donations, in order to be ready for the fall term. This great flurry of activity is the culmination of 18 months of study and search as we explored different positive ways to move our programs around in order to make more room for undergraduate learning in Rust Hall. I'm confident that you'll agree we've found the right formula for our College and for the City of Memphis.
"But wait . . . there's more! Right now on North Barksdale, with the help of the Plough Foundation and other generous donors, we are also building a second specially designed art student residence with open studio space on the top floor, a twin for the remarkable Metz Hall."


Meanwhile, Jeff Sanford, winding down his 12-year tenure at Center City Commission, has been an engaged partner with Mr. Nesin in getting this project completed.  He and his staff have come up with some financing ideas that can move the project ahead during these incredibly difficult economic times, and they deserve a lot of credit for not taking the attitude that it was just too hard and too unlikely to get it done in this climate.
Topping Out
We are sure that Mr. Sanford has his own favorite accomplishments that he'll point to as the legacy of his years at the Center City Commission, but for us, nothing tops this one.
For two men who passionately care about this city and understand its rhythms and its undertow better than most, it's a career maker.