While we're on the theme prompted by New York Times about what a special place Memphis is, we want to throw the spotlight on five special people who make it so.
The first two get our votes for Role Models for 2010, the second gets our vote for person who most reminds us why love this crazy place, and the last two get our votes for pursuing their artistic passion while waiting for Memphis to catch up with them.
First, role models.

The Commercial Appeal had a fine article about basketball star Joe Jackson that reported on a lot more than athletics.  More to the point, it talked about being the kind of person that Memphis needs and being proud of your home town.  And we need to get Mr. Jackson's coach on the speaking circuit, because he was profound when he said: "You talk about improving the city? Let's embrace these kids as role models and teach them to be role models.  I want them to be able to say, 'What I'm doing is a great thing and the people around me are genuine people who want me to contribute and stay in Memphis and want me to be a positive icon.' Imagine when people start saying, 'Hey, that's a Memphis kid, he went to Memphis, stayed in Memphis and now he works in the community as a role model.'
"Once you start doing that, I think the city will turn the corner. Because you're talking about the best basketball talent here in the last 25 years, and that's saying a lot. But if you just start looking at them as basketball players — and maybe I'm wrong and we have some success stories that I don't know about. But we don't hear enough about that. I want to hear about that. We need these former players to step up and say, 'I played at Memphis, and now I'm a teacher.' I want them to step up and embrace it. We need this here, more than any other city I've ever been in. We need it."
Our friend and civic leader Darrell Cobbins summed it up well:
"I am very inspired by the wisdom of this young man (a national superstar who could go to any Div 1 college he wanted) and his coach (who seldom use their platform to speak up/out on larger community issues).  It is clear that they deeply care about our city. Replace the basketball metaphor w/ anything else (academics, job opps, long distance relationship, quality of life). The expressions here challenge the values of our community (bigger than b'ball) and challenges our young people and their values/commitment to Memphis.  Speaks to the work we have to do to make sure young people know they have choices/options/opportunities…in Memphis to be GREAT and remembered.  I was not at all expecting this from a sports article.  The reporter, the coach, and young Mr. Jackson should all be applauded."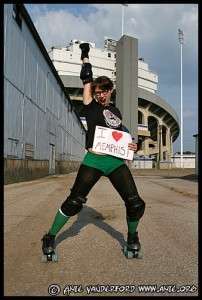 If you, like us, enjoy reading the I Love Memphis blog sponsored by the Memphis Convention & Visitors Bureau, you see Memphis through the always intriguing eyes of blogger Kerry.  She highlights all there is to see, do and hear in Memphis, and we wonder when she sleeps.  It's always an enjoyable read and great R & D about our city.
Most of all, we love her energy and hometown pride: "My name is Kerry, and I love Memphis.  Iwas born in Memphis, moved away for college, and then moved back to Memphis to live and work. There are a lot of reasons to live here – the cost of living is low, the music is good, the food is amazing, and the people can't be beat.  Memphis is a place unlike anywhere else, and I'm so lucky to live here.  Because I want you to love Memphis as much as I do, this site is intended to highlight the best of what's going on in Memphis.  I'm only one person, though, so I need your help. If you've got something that you'd like to see featured in this space or information about events, please let me know.
Finally, we are proud that our favorite overnight sensations (after a decade of being ahead of the times and getting less respect than Roger Dangerfield) Sarah Fleming and Christopher Reyes also made The Commercial Appeal in an article about the impressive work they are doing for a variety of local organizations.
As Arts Memphis president/CEO Susan Schadt said: "We took a leap of faith and trusted them, and we got such pure and spirited and passionate tributes to individuals that we knew we had hit on something.  Our mission is raising funds to create a vibrant cultural community, so part of that is building awareness.  Chris and Sarah are right there on the ground with the artists. They are our go-to team when we want to get a message out to the community — a message that's powerful and to the point."

While it wasn't a leap of faith for anyone who's followed their work over the years, ArtsMemphis and others deserve plaudits for recognizing the distinctive way that the Live From Memphis duo see their city.  It's always good to see creative people succeed, but it's especially exciting for people we hold in such high regard here.