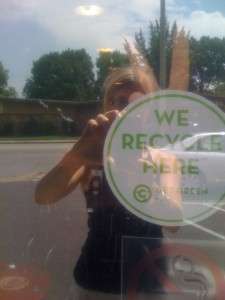 It's Friday, trash pick-up day on my street and I'm watching.
I'm trying to be optimistic. I'm thinking that maybe today is the day.
Will they? Will this be the week that our across the street neighbors (family of five), changes their ways? Nope, it happens again. Same as last week and the week before and the week before and …
These neighbors put more trash on the curb than anyone else in the neighborhood. That's right, it's ALL trash, no recycling.
The city of Memphis picks up recycling in most neighborhoods and for the life of me, I cannot figure out why everyone who has this service available to them isn't using it. Have we really gotten that lazy? And, we pay for this service, look at your MLGW bill under "City of Memphis Solid Waste Fee."
Drop it:
Our city doesn't offer this service to businesses, apartments, town houses/condos, or even in some gated communities (don't get me started on this topic), but they can still do their part. There are five recycling drop-off centers available for residents and businesses not serviced by City of Memphis Solid Waste Management:
Downtown – Located in the parking area on Mud Island Drive at the North entrance to Mud Island Park.
East Memphis – Located on Moore Ed, off Germantown Parkway South,  south of Shelby Showplace Arena at the Agricenter.
Midtown – Located on the corner of Cooper and Walker at the First Congregational Church.
Southeast – Located at the Hickory Hill Community Center at 3910 Ridgeway.
FCR – 3197 Farrisview Blvd. (located off American Way ,west of Lamar intersection). This is the City's recycling processing facility operated by FCR of Tennessee. Place recycling material in carts located just outside the gate.
Gimme 5:
Did you know that Memphis doesn't recycle #5 (polypropylene) plastic containers?  Whole Foods has stepped up to the plate and offers a service to meet this need. It's called the Gimme 5 Program. You can take your #5 plastics to them and they will recycle for you (think large yogurt containers, bottle caps and closures).
More Info:
Need new or additional bins? Confused about what gets recycled? Go here.
Should I?
Do you think it would be considered rude of me to order my annoying neighbors a recycling bin as a holiday gift? Maybe tie a nice red bow around it? Think they might get the hint? I doubt it.  Don't be the annoying neighbor.
Website: www.projectgreenfork.org
Facebook: Project Green Fork
Twitter: projgreenfork