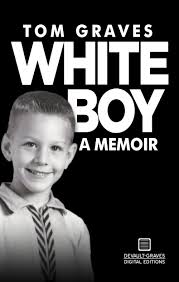 The title, White Boy¸ seems to leap off the cover of Memphis Tom Graves' latest book, but the story inside is even more attention-grabbing than that.
It begins:
I am from a racist family.  I was educated in a racist school.  I was a parishioner in a   racist church.  I live in a racist city. 
This being Memphis, however, the racism is complex, ironic, and like Einstein's concept of time seems to fold in on itself.  In my childhood the world seemed to be divided two ways: by gender and by race.  There were men and there were women, and there were white people and there were black people.  And that was all there was to it.  I was only vaguely aware that there were others who fell outside those parameters.
From there, in a candidly honest memoir, White Boy tells the tale of a child reared in Arkansas with its pride and prejudice who was drawn to the soulful lure of Memphis with its own kind of mindless racism and where his life unfolds in unexpected ways through triumph and despair, lust and love, and elation and frustration.
From racially-bigoted conversations familiar to all of us who grew up in the religious fundamentalism of the rural South to wrestling with the bureaucracy of Memphis City Schools to an abiding interest in and from African American women, Mr. Graves' book captures in frank detail his own motivations, justifications, and explanations in a unique life's journey which led him today to his tenured English professorship at Lemoyne-Owen College.
Author of six books, including the acclaimed Crossroads: The Life and Afterlife of Blues Legend Robert Johnson, Mr. Graves' personal and distinctive writing style is in full flourish as it winds down to his doomed love affair with a Sierra Leone woman he met on an online dating site and who he brought to the U.S. to marry.
White Boy is published tomorrow and there's a book signing at Novel bookstore, 387 Perkins Extended, Tuesday, June 4, at 6 p.m.
His book grew out of cooking lessons with an 80-year-old African American woman, and in working on a cookbook, he wrote a chapter about her that inspired him to write about himself.
The following questions and answers are from the book's press kit:
Q – What did you learn about yourself in the process?
A – White Boy enabled me to rediscover my past and put certain pieces of my life into a perspective I hadn't seen before.  I always thought my life rather boring, but from the point of view of someone who experiences all these changes in culture based on race, suddenly my testimony came alive.
Q – Where do you think White Boy fits when compared with other books that involve the delicate issue of race relations in the South?
A – What I think separates the book from what we typically get is that mine is the rare look at race from the white working class viewpoint.  I'm pretty put out with the mint julep country club set that tells everyone how wonderful their black servants were.  My family couldn't afford servants and would not have wanted black servants had they been rich.  Very different attitude and I wasn't afraid to discuss it.
Q – Memphis has a long and troubled history when it comes to race relations.  Despite your love for your hometown, you didn't shy away from telling your own truth about your upbringing and the integration of the city's public schools.  What lessons can people learn by reading this part of the book?
A – Well, the truth shall set you free.  I think we whites need to own up about how racism basically was across the board, from the richest to the poorest whites, in those times.  There's been an awful lot of whitewashing on the part of some whites to sort of deny things were what they really were.
Q – Your stories from your year of teaching at a Memphis middle school are both humorous and heartbreaking.  What stands out the most when you look back on that experience?

A – I can speak to how hard it is to be a teacher in our local public schools.  Teachers are the most undervalued and most put upon members of our society.  Those kids, even the ones who supposedly hate school, rely on those teachers as surrogate parents.  And teachers get nothing but hell from the students, the parents, their principals, and the school system itself.
Q – How do you think readers might react to some of the sexually explicit parts of the book where you describe your sexual escapades?
A – People have no idea how hard it is to discuss those things with your reading public.  But they are crucial to getting to the crux of the realities I faced.  Describing my encounter with a streetwalker is meaningful to who I was and who I became.  In a way writing about it – as hard as it was – was liberating.  I just hope delicate readers don't dismiss is as being salacious for no other reason than to be naughty.  That wasn't my intention.  At all.
Q – For the first time you tell the complete story of the death of blues singer Bessie Smith in your book.  This is quite a coup.  How did you learn the details of her death.
A – I worked closely with the doctor who stopped along the highway when Bessie Smith had her car accident.  What is not well-known is that the doctor tried his best to save Bessie Smith's life out there on that highway.  A legend has sprung up that Bessie Smith was refused admittance to a white hospital and died as a result.  That is not the truth at all.  He (the doctor) was a complicated man, complicated racially too, and I thought the story fit well into my narrative.
Q – There's no question that Fatima was the love of your life.  Your trip to Senegal to meet Fatima and her family member sin person many months after meeting on Match.com is quite a blissful story.  Describe the feelings you felt as you wrote about this experience followed by your tumultuous relationship after being her to the U.S. to become your bride.
A – Fatima, no question about it, was my soul mate.  I felt that way then and I feel that way now.  It is also clearer and clearer to me that she was a con-woman who may or may not have truly loved me, but definitely used me to get to the U.S.  My 10 days in African with her were the best 10 days of my life.  But as soon as she arrived in the U.S., things began to go awry.  No matter what I did to try and make things all right, the pieces just couldn't all come back together.  It still breaks my heart.  I haven't had a relationship since.
**
Join us at the Smart City Memphis Facebook page for daily articles, reports, and commentaries that are relevant to Memphis.