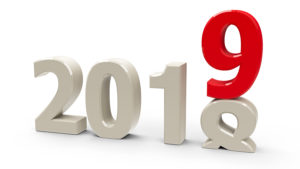 In the coming days, this blog will be posting resolutions, predictions, or observations by Memphians as they look ahead to the new year. 
Steve Cohen, U.S. Congressman, 9th District, Tennessee:
"Although it appears 2019 will get off to a rocky start, I'm resolved to be the hardest working Congressman and keep fighting to build a better Memphis.
"As the incoming chairman of the House Judiciary Committee's Subcommittee on the Constitution, Civil Rights and Civil Liberties, I'm resolved to work with my Congressional colleagues to exercise oversight of the Trump administration and its possible violations of the Constitution's emoluments clauses.  These constitutional provisions aren't just rhetoric; they are limitations placed on the presidency to prevent corruption, and they must be obeyed.
"The facts uncovered by Special Counsel Robert Mueller's investigation and from Congressional oversight hearings will provide much needed sunlight and ensure that no one is above the law. I'm also resolved to protect voting rights which continue to be under attack. In addition, I'm resolved for my staff to continue to do active constituent service work as we have the previous 12 years and to see that the needs of the 9th Congressional District are met. That means while keeping our promises to meet middle class and women's health needs, we will also assure that patients with pre-existing conditions get the care they need and that we lower prescription drug prices.
"As a member of the Committee on Transportation and Infrastructure, I will review proposals for significant road, bridge, rail and pipeline projects with the goal of seeing Memphis benefit from new jobs.
"Happy New Year!"
Ashley Coffield, President and CEO, Planned Parenthood of Tennessee and North Mississippi:
My prediction for 2019 is that women will achieve full rights to control their own bodies and destinies without political interference. Laws on the books in Tennessee, Mississippi, and Arkansas and other states that shame and stigmatize women for their decisions about pregnancy will be repealed. Justice will be restored and the medical community will embrace reproductive health care as part of the full spectrum of health care.
Sadly this is my wish and not a prediction. But I do think we can get there in the long run if we remain courageous and tenacious in our advocacy and never compromise on freedom. Your body is your own, and when it isn't, you can't be free and you can't be equal. As Toni Morrison has said, "In times of dread we must never choose to remain silent. There is no room for self pity and no room for fear."