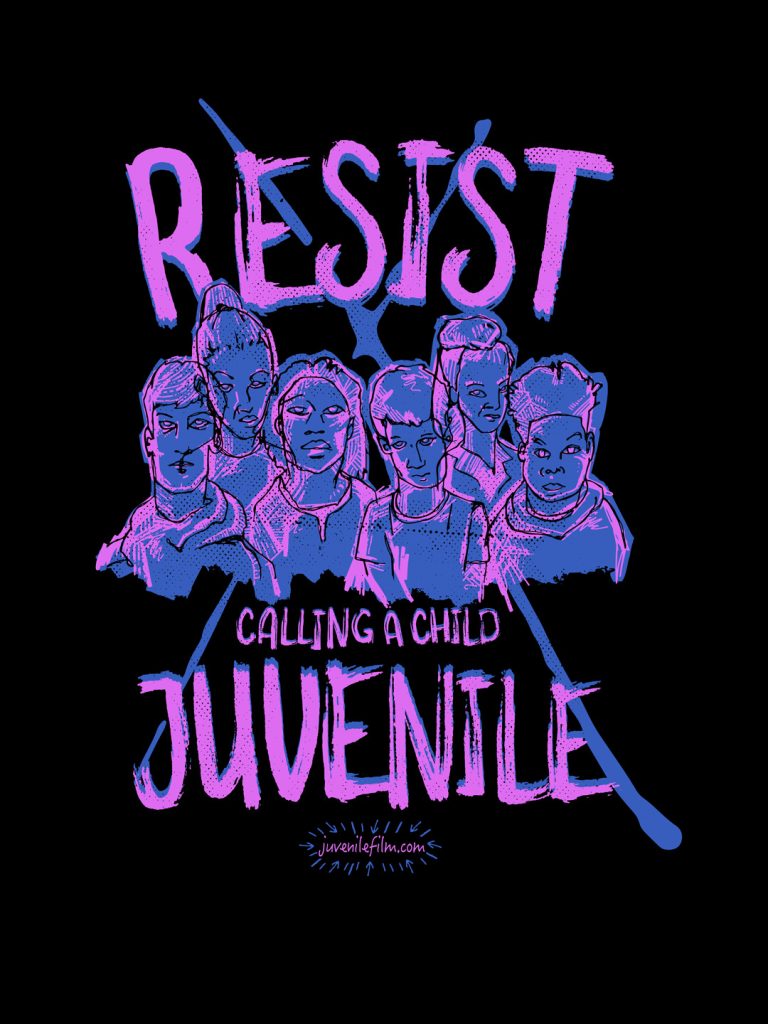 Sarah Fleming (Cat and Fish) and Joann Selvidge (True Story Pictures), two award-winning Memphis filmmakers known for their outstanding work, are now collaborating on a documentary as timely as it is informative: JUVENILE.
There's never been a time when more questions have been asked – and deserve to be asked – about the effectiveness of the justice system for youths and the tragic consequences that often result when children's lives intersect with the so-called "juvenile" justice system.  (Our concern about the system led to Friday's blog post about the Youth Assessment Center.)
"The film follows five young people across the country and explores how brain science, constitutional rights, and smart on crime economics is being used to disrupt the cradle to prison pipeline," Ms. Fleming said.
The filmmakers have been working on the documentary for three years, already producing three short films as well as dozens of audio interview and recently a trailer for the feature.  All of their work so far can be found on the film's website, JuvenileFilm.com.
Supporting Our Filmmakers
Several local organizations connected to youth justice and early childhood development have contributed to their budget and they are fiscally sponsored by the Southern Documentary Fund, a 16-year-old nonprofit arts organization that "cultivates documentary projects made in or about the American South."  The Fund's core belief is that documentaries have the power to change lives and communities, a fact already proven by Ms. Fleming and Mrs. Selvidge's work on JUVENILE but also in their previous work.
The good news is that we have the opportunity to contribute to their film's budget to make sure they have the funds for their last prep work and to cast the final two characters of the five featured in the film.  Our funding would also allow them to apply for much larger grants from funders like ITVS as they head into full-on production in January.
To support these special Memphis filmmakers, we can contribute to their small Seed & Spark campaign, which is halfway to its goal of $18,659.
The directors, producers, and director of photographer for JUVENILE are women, and the crew is 70% people of color.  To their credit, rather than filming in other locations, they want to bring the characters in their documentary to Memphis for interviews, and our financial support could help make that happen.
Without question, JUVENILE is the kind of documentary that our time demands, and we are fortunate to have the stories revealed by these filmmakers who have proven abilities to tell compelling stories with passion and meaning.
Asking The Right Questions
Here's how they describe their film, which explains why it can be influential in shaping the continuing discussion about more effective policies for youth crime:
"Five young people across the country consider how their involvement with the justice system has shaped their lives.  We meet each of them via intimate, eye-direct interviews.  We learn about their childhoods through personal stories and layered animations.  Their shared experiences underscore the fundamental elements of every juvenile justice system across the country, including persistent racial disparities, criminalized poverty, and trauma.
"Instead of following our main characters over a period of time during which interwoven narratives progress chronologically, we made a structural decision to share their stories in sequential silos.  The story silos provide depth and a personal touchstone for audiences.
"Each individual narrative answers the questions: How did I get into the system, what happened to me while I was there, how did that experience impact where I am now, and what changes could have improved my outcomes?
"Weaving these character silos together, expert voices of youth advocates and professionals (who all have lived experience with the system as youthful offenders, victims, or family members) will guide us on our journey through an overarching system narrative, which answers the questions: What are the on ramps into the system, where are youth diverted, how do they get out and in what condition, and ultimately, what are states doing to change their systems?
"Between each story silo, we learn about the key drivers of change: Brain science, constitutional rights, and smart on crime economics."
***
Join us at the Smart City Memphis Facebook page for daily articles, reports, and commentaries relevant to Memphis and the conversations that begin here.