This post is written by Joe Kent, local researcher, who has a BBA with a Major in Finance from the University of Memphis and Masters of Science in Instructional Technology.
By Joe Kent 
Based on data from The Bureau of Labor and Statistics (BLS) Quarterly Census of Employment and Wages (QCEW) program, Memphis and Shelby County taxpayers are now saddled with a $47 million tax revenue shortfall when compared to their municipal peers.
The QCEW program publishes a quarterly count of employment and wages reported by employers covering more than 95 percent of United States jobs, available at the county, MSA, state and national levels by industry. QCEW reported their 2017 annual averages on June 7, 2018.
Arguably, QCEW should be the external authoritative data source for measuring the effectiveness of Memphis/Shelby economic development efforts regarding quality employment growth. QCEW collectively measures both employment and total wages which are used to pay local taxes in Memphis and Shelby County.
For example, QCEW is especially useful in measuring the effectiveness of the Memphis/Shelby Economic Development Growth Engine's (EDGE) payment-in-lieu of taxes (PILOT) program. The EDGE PILOT program provides tax abatements primarily to corporations in exchange for providing employment and growing total wages in Memphis/Shelby County.
Analysis
In an analysis of the QCEW data, Memphis/Shelby County peers are compiled as those identified in The Memphis Economy.
The home counties of the municipal peers are then identified. Next, the total annual average wages paid for those peer counties from 2010 to 2017 are retrieved from the QCEW database and an analysis is conducted.   2010 is selected as the benchmark year because that was the last full year prior to the formation of the Economic Development Growth Engine (EDGE) which supports payment-in-lieu of taxes (PILOT) programming for Memphis/Shelby County employment growth.
To see the analysis click here.
The analysis reveals the following:
*  Shelby County total wages paid growth rate trails its peer average by 7% for years 2010-17 (This is not a comparison to Nashville but a comparison to the average of Memphis/Shelby County peers)
*  Peer average total wages paid growth rate from 2010-17 is 28%; Shelby County is 21
*  Peer average total wages paid growth rate from 2016-17 is 3.93%; Shelby County is 3.05
*  Total Shelby County wages paid deficit versus peer growth rate is $$1,565,339,000 or $1.6 billion dollars
*  Total resulting Memphis/Shelby County estimated taxpayer shortfall from slow employment growth is $46,960,000 ($1,565,339,000 X 3%=$46,960,000). 3% is the approximate rate used in EDGE project summaries that justify tax abatements.
While along with the rest of the country Memphis/Shelby County is growing, it is falling behind its peers due to slow employment wage growth. As a result, needed investments cannot be made to  competitively attract new economic growth to Memphis/Shelby County because of lack of tax revenue that is a result from below average total wage growth.
This chart tells the story of how Memphis/Shelby County total wage growth is trailing the average of its peers at an increasing rate.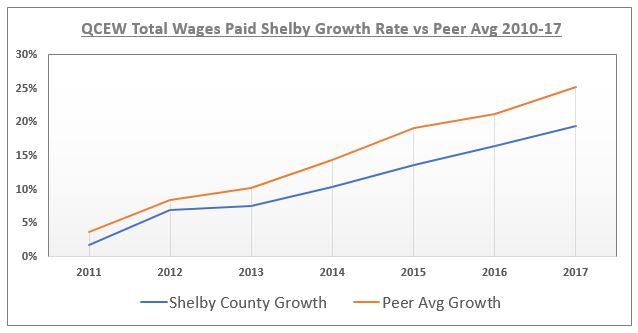 Conclusion
Below average employment growth can result for a variety of reasons to include external events, below average industry recruitment and expansion, forgone community investments and lack of available workforce stemming from available populations, education and training challenges. In Memphis and Shelby County the following areas of special concern point to an immediate restructuring of EDGE led by local legislators:
*  Concerns over retention PILOT accounting and expensive tax abatements which further increase and irritate revenue shortfalls resulting in forgone community investments.
*  Slow overall employment growth stemming from EDGE economic development efforts.  *
* Workforce and talent pipeline development concerns regarding the Greater Memphis Alliance of Competitive Workforce (GMACW), an EDGE subsidiary, which has reported an embarrassing 8,000 enrollees after three years with their Memphisworks program.  Memphisworks is a product of an American workforce development contract awarded to a company without a track record of domestic United States workforce development experience.
Leadership and oversight by local legislators, which has been stalled for the past seven years, will go a long way in addressing Memphis/Shelby County local economic growth challenges through a restructuring of the economic development landscape that immediately begins with a restructuring of EDGE.