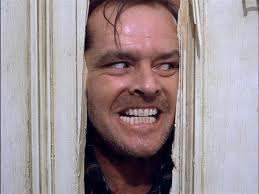 The headline about the Tennessee Department of Transportation's double standard for I-69 and I-269 provoked the image here of Jack Nicholson in The Shining: "I'm baaaaaaack."
And so it is for TDOT.
With the election of Governor Bill Haslam, former commissioner of TDOT Gerald Nicely, got the boot as did his more sensitive approach to TDOT transportation projects which had run roughshod over local community wishes for decades.  It was Mr. Nicely who introduced context sensitive design into the TDOT vocabulary, and although he didn't go as far as we hoped at times, he was revolutionary within the TDOT environment, where roadbuilders have long held sway.
When Phil Bredesen ran for election as governor in 2002, he said that TDOT was "out of control" and ran campaign ads pledging to clean up the troubled agency that had been the target of outside lawsuits and frequent fines by the state Department of Environment and Conservation.  Governor Bredesen was right, but there are troubling signs that the Haslam Administration is undoing those reforms, most notably the environmental protections that were set in place.
Lacking Rationality
With the announcement about I-69, TDOT appears to have firmly returned to the land of the special interests where people have never seen a highway they don't like and has never seen sprawl as a problem or bad for any Tennesseee community.
As a former mayor, TDOT Commissioner John Schroer should know better, but then again, perhaps, he thought that Nashville's big boondoggle project, the massive circumferential state highway 840, was actually sound transportation planning.  The $753 million that the 78 mile interstate-type Nashville southern bypass has cost has been paid entirely by TDOT over 21 years, but when it comes to I-69, the TDOT commissioner says he cannot make a similar long-term commitment to the West Tennessee roadway.
Notably, plans for SR 840 were included in the 1986 Better Roads Program, and if nothing else, it was certainly truth in advertising.  It could never have been called the Better Communities program.  We're sure the huge investment in unsustainable development is treated as "growth" in Nashville just like it is here.  If development interests and well-connected political contributors are good at anything, it is in greasing state processes whenever there is the opportunity to open up greenfield development even if it chokes off the city at its core and for the public to pay for the infrastructure to make it possible.
Meanwhile, while shutting off any funding for I-69, Commissioner Schroer announced that SR 840's sister project in Shelby County – I-269 – will not be affected by this burst of fiscal concern by TDOT and I-269 will continue unabated despite any rational reason for its existence.
Political Highways
Our last post recounted the way that Mississippi politics outflanked all the opposition in Tennessee and added I-269 to the federal transportation plan although it was opposed by the Democratic Memphis mayor, the Republican Shelby County mayor, and the Republican Tennessee governor.  The elected officials rightly pointed out that there was no need for the highway because I-69 better responded to the needs of our large trucking industry.   It was more direct and more economical.  It simply made good sense.
Despite those facts, Mississippi politicians, motivated to open up the northern part of their state adjacent to Memphis for some powerful developers, sold I-269 as a necessary highway for the Memphis region to serve its distribution and freight industry.  The bait and switch became obvious when plans for the interstate had exits every mile on the route, something the freight industry hardly needed but would open up greenfields to developers, much of it unspoiled and ripe for conservation protections.
Over the years, the Republican Party all but abandoned any claim on Memphis itself and became more and more a party of the suburbs presided over by a number of vocal, anti-Memphis extremists.  Today's Republican Party finds little concern in the unsustainability at the core of I-269 because they have deluded themselves that the benefits to the 'burbs are significant although in time, the interstate will prove damaging to Germantown, Collierville, and Bartlett, draining revenues and residents from the towns.
Taking a Toll
Changes in this route seem about as possible as the MPO reform that is needed to make sure it's not repeated, and so, if Mr. Schroer would like to do something to anything related to I-269 that would be helpful for this entire community, he should develop a plan to turn the project into a toll.
User fees are all the rage in government these days, so for I-269, the state should lead us toward user fees, or tolls, for vehicles on it.
In the past, the MPO (Metropolitan Planning Organization) has said that tolls can't be put on interstate highways, but it's done in other places.  In fact, there are now 3,175 miles of tolled highways in the interstate system.
If freight companies and developers want this highway, at least they should pay for it through user fees so that I-269 is paying its own way.  If developers want this road to line their pockets with another attack on sustainability, residents of its developments should pay for it.
Turnpikes to the Future
The Republican governor of Virginia received approval to add a toll on I-95 and it will generate $250 million over the first five years, Georgia created toll lanes on I-85 in suburban Atlanta, and other states are following suit.  There already are tolls on 129 miles of the Connecticut Turnpike; 30 miles of the Dallas-Fort Worth Turnpike; 305 miles of the Illinois Turnpike; 236 miles of the Kansas Turnpike, 531 miles of the Pennsylvania Turnpike, 280 miles of the Oklahoma turnpikes; and 45 miles of the Kentucky Turnpike, to mention but a few.
Perhaps, the toll could be used to develop a truly regional public transit system that delivers higher quality service to key job centers, the toll revenues could be used to rebuild existing infrastructure that needs repairs, or the revenues could support urban development or density-increasing projects.
Or, for that matter, tolls on I-269 could be used to build I-69.