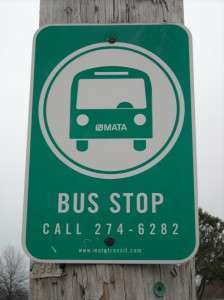 This hardly classifies as news, since it's already widely known that we have one of the nation's poorest public transit systems.
It's now been documented by Brookings Institution which concluded that among the 100 largest metros in the U.S., we are #69.  Or put another way, we are in the bottom third.
If there's any good news for Memphis, it's that we're better than any other metro in Tennessee.  Chattanooga is #87, Nashville is #88, and Knoxville is an abysmal #95.
There's no reason for celebration.  Fifteen of the 20 metros for public transit are in the South.  The same number of highly rated transit systems are in the West.
As we read the Brookings Institution report, we thought of the words of Memphis Mayor A C Wharton, who said: "Memphis has no margin for error."  He's right and it's why we have to do an awfully lot of things right at the same time.  Better public transit is one of those things.
Coming Up Lacking
"Public transit is a critical part of the economic and social fabric of metropolitan areas," the Brookings report said.  "People take transit for any number of reasons, but one of the most common is to get to work.  However, when it comes to the question of how effective transit connects people and jobs within and across these metropolitan areas, strikingly little is known."
In the Memphis metro, only 26% of all jobs are reachable by transit within 90 minutes.  The national average is 30%.
The average wait here for a bus in rush hour is 15.8 minutes, which is 50% higher than the average of the 100 metros.  It's about 10 minutes.
Meanwhile, 51% of the working age residents are near a transit stop.  The average of the 100 metros is 69%.
Finding a Transit Leader
Cities in the top 10 are Honolulu, San Jose-Sunnyvale, Salt Lake City, Tucson, Fresno, Denver, Albuquerque, Las Vegas, Provo-Orem, and Modesto.
Cities in the bottom 10 are Knoxville, Riverside-San Bernardino, Youngstown, Augusta SC, Palm Bay/Melbourne, Poughkeepsie, Birmingham, Greenville SC, Richmond, and Atlanta.
"These trends have three broad implications for leaders at the local, regional, state, and national levels," wrote Brookings.  "Transportation leaders should make access to jobs an explicit priority in their spending and service decisions, especially given budget pressures they face.  Metro leaders should coordinate strategies regarding land use, economic development, and housing with transit decisions in order to ensure that transit reaches more people and more jobs efficiently."
The most troubling thing for us is not just the validation of what we already knew, but that we can't think of any elected official or leader who can be identified as a "leader for transit."  As Sustainable Shelby pointed out, there's a vital role that transit plays in shifting our community for a path that is ultimately unsustainable.
Talking the Talk
We've talked for years about creating a transit authority that represents the best national thinking about better ways to serve the entire community, rather than operating from the assumption that their clientele is a captive audience (read: poor people) so there's little reason to improve the quality of the experience, the quality of the buses, or to keep pace with the improvements being made in other cities in their bus service.
We've talked for years about shifting the emphasis of the Metropolitan Planning Organization (MPO) from how to build more highway lanes (thinking that delivered up abominations like Germantown Parkway) to how to provide a higher quality transit system.
We've talked for years about how crucial public transit is to effective economic development, but the business community remains essentially uninvolved in calls for a better bus system.
MATA is now undertaking the transit plan required by law (and our guest blogger Jonathan Flynt has written insightfully about it).  In the past, that has meant largely changing the dates on the existing plan and perpetuating the same kind and quality of service.  Hopefully, that will be different this time since there are MATA board members asking the kind of impertinent questions that need to be answered by the MATA staff if bus service here is ever to improve.
Jonathan Flynt blog posts: